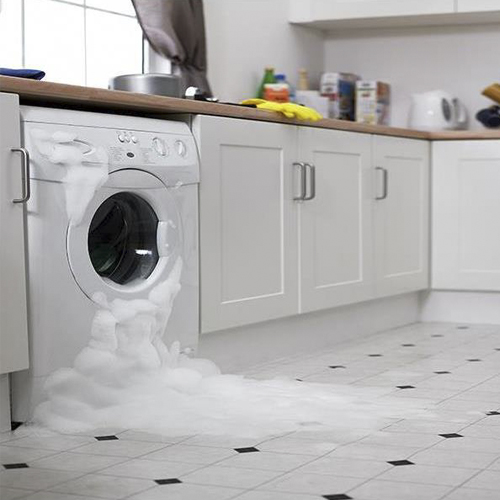 Washing machines, or any appliance in your home, are not infallible. Over time they can experience malfunctions, break or overflow.
When a washing machine or other appliance malfunctions and overflows it can be nerve wracking and cause the property owner to panic and not think logically. However, there are a few simple steps that an insured should take when this occurs.
Switch off the power supply at the circuit breaker or fuse box. The insured should not press the cancel button the on the washing machines control panel since this can make the overflow worse by switching it into drain mode.
After shutting off the power, the insured should remove all removable items from the flooded area, including furniture and area rugs. These items should be dried as quickly as possible since these items can usually be salvaged since the water is not contaminated.
Remove the flood water and dry the room with dehumidifiers and fans. If the water spread to a large area and includes concrete or wood floor than the insured should consider calling a water mitigation company.
Clothes should be removed from the washing machine and wrung dry over a sink. The remaining water in the washing machine should be removed to help with drainage issues.
The washing machine should then be checked for any damage. The machine should be pulled away from the wall to look for any loose connections, drips, leaks, or cracks in the hoses. The hoses may need to be replaced or the washing machine itself may need to be replaced.
If there was a problem with the hoses and the insured believes that it has been fixed, then a test should be conducted to see if the machine is in working order again. If problems are still occurring then call in a warranty claim, if applicable, or call a technician to inspect the washing machine.
Tips to Prevent Overflow:
Avoid overstuffing the washing machine with laundry. Clothing should be distributed evenly and loosely with the machine.
Water supply hoses should be check periodically for cracks, loose connections, and leaks. Older hoses should be replaced with newer hoses.
Water alarms can be installed near the machine to notify the insured of any leaks. An automatic washing machine shut off valve can also be installed to prevent flooding.
The insured should use the correct type of detergent and the correct amount of detergent to avoid an overflow.
If you experience an overflow from your washing machine give us a call and we'll help you take care of the cleanup.
About First Choice Restoration
First Choice Restoration is a water, mold, fire, and smoke remediation company headquartered in Philadelphia, PA. The company also operates additional offices throughout other areas of Pennsylvania, Maryland, New Jersey, and Delaware. The company has been assisting homeowners and businesses with water, mold, fire, and smoke cleanup for over 40 years.